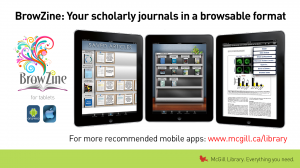 Mobile technology, which includes the proliferation of mobile apps that can be leveraged for research, teaching and learning purposes, has fundamentally changed the way people look for, access, evaluate, and manage information. This past summer I was lucky enough to attend the annual three-day Osheaga music festival. When I received my tickets (RFID bracelets) in the mail, the envelope included information on downloading the Osheaga app. The app was great. It included the three-day schedule, artist biographies, site maps with stage locations, all kinds of multimedia content, and you could use the app to activate your RFID bracelet, which could then be used to enter a whole slew on contests and promotions. It occurred to me more than once during those three days that tailored apps are going to become more commonplace in many aspects of our lives, including libraries!
Although perhaps not as exciting as a three day outdoor summer indie rock concert, the library has created a recommended mobile apps web page, which contains apps selected by librarians that are particularly useful for research, teaching and learning. The web page is still in its infancy, however, we decided to focus on apps which facilitate access to, and use of, collections and resources the library is already subscribing to, as well as apps that will help students and faculty in their daily work. To this end, we have sections on Reading apps, Citation Management apps, and Productivity apps, as well as discipline-specific apps. I predict that the discipline-specific apps section will grow quickly over the next little while, as subject specialist add sections on apps specifically useful in their respective disciplines, as our colleague Jill Boruff has done for health sciences.
The group responsible for the apps web page is also charged with promoting important apps. The first two apps that we've decided to highlight are BrowZine and PressReader. BrowZine delivers thousands of academic journals to your iPad or Android tablet. BrowZine works by organizing the articles found in Open Access and subscription databases, uniting them into complete journals, then arranging these journals on a common newsstand. The result is an easy and familiar way to browse, read, and monitor scholarly journals across the disciplines. PressReader is an app that is used to access and download the over 2,000 full-content newspapers & magazines accessible via our PressDisplay subscription. This app works on both smartphones and tablets. To download newspapers you must be on the university network, either on the McGill WiFi, or from home using the Virtual Private Network (VPN).
Please check out our recommended apps page every once in a while to see what new apps have been added, and please feel free to send me any app suggestions that you may have for possible inclusion.