A newly installed Laptop Kiosk is awaiting returning students this week in the McLennan-Redpath Library building lobby. A new service made possible by the AUS Undergraduate Improvement Fund. The dispenser contains 12 laptops, available for loan to current students, faculty and staff for a period of one day.
Borrow a laptop today and it will be due by midnight of the next day.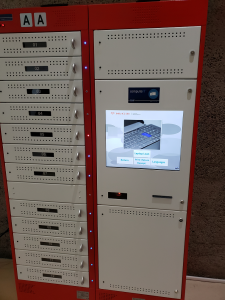 The kiosk's HP laptops have the following software loaded:
Windows 10
Adobe Acrobat Reader DC
Adobe Digital Editions
Google Chrome
Mozilla Firefox
Skype (the consumer version)
Zoom
Microsoft Office is not installed. Users just need to log into McGill's Office 365 service to use Office apps.
Check in or return a laptop directly back into the kiosk. Be sure to plug in the power cable, so the laptop will recharge for the next user. The kiosk will not loan a laptop until its battery is 90% charged or more.
We hope this new service is easy to use. Send us your comments!
****************************************************************************************
Laptop Kiosk terms of use (the fine print):
Laptops borrowed from the kiosk are due the next day at midnight.

Overdue fines accrue at a rate of $0.02 per minute. 

Laptops overdue longer than one day will be considered "lost" and the borrower will be charged a replacement fee of $350 plus a processing fee of $50.

Broken equipment will also be subject to the same replacement and processing fees.

Charging cables are not included.
Borrowers agree to abide by all relevant Library policies.
*****************************************************************************************