If You Want It Come and Get It 
The Humanities and Social Sciences Library is proud to present their new School Supplies vending machine in the Première Moisson Redpath Cyberthèque. 

Thanks to an initiative by the SSMU's Library Improvement Fund Committee, students and staff now have a convenient location to grab all of those last-minute essentials, like the much-needed USB charge & sync cable, a set of Post-It Notes, and even a tooth brush & paste kit. Reasonably priced, and located near the RBC bank machine, never let a missing White Out emergency get the best of you again.  
The following products are available for purchase by credit card: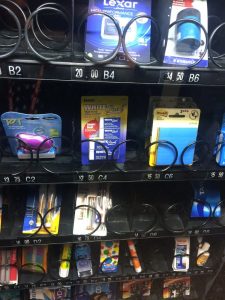 USB charge & sync cables

 

Micro USB cables

 

Lip balm

 

Tooth brush & paste kits

 

Scissors

 

Micro SDHC (Lexar)

 

Pencil sharpeners

 

Dry erase markers

 

Staplers

 

Erasers

 

Post-It Notes

 

Condoms

 

White Out (tape & pens)

 

Mechanical pencils

 

Tampons

 

Coloured Sharpies

 

Glue sticks

 

Hand sanitizer

 

Kleenex

 

Band-aids

 

Scotch tape

 

DVD-R

 

CD-R

 

AAA batteries

 

AA batteries