Anyone who follows the news (and how can you avoid it these days?) knows that the movement to ban books is growing. September 18 – 24 is the 40th annual Banned Books Week. According to the American Library Association's (ALA) website, Banned Books Week "celebrates the freedom to read and spotlights current and historical attempts to censor books in libraries and schools." The theme for Banned Books Week 2022 is "Books Unite Us. Censorship Divides Us." By bringing attention to book challenges happening across the United States, Banned Books Week highlights the harms of censorship.
The ALA's Top 10 Most Challenged Books of 2021 (available at McGill)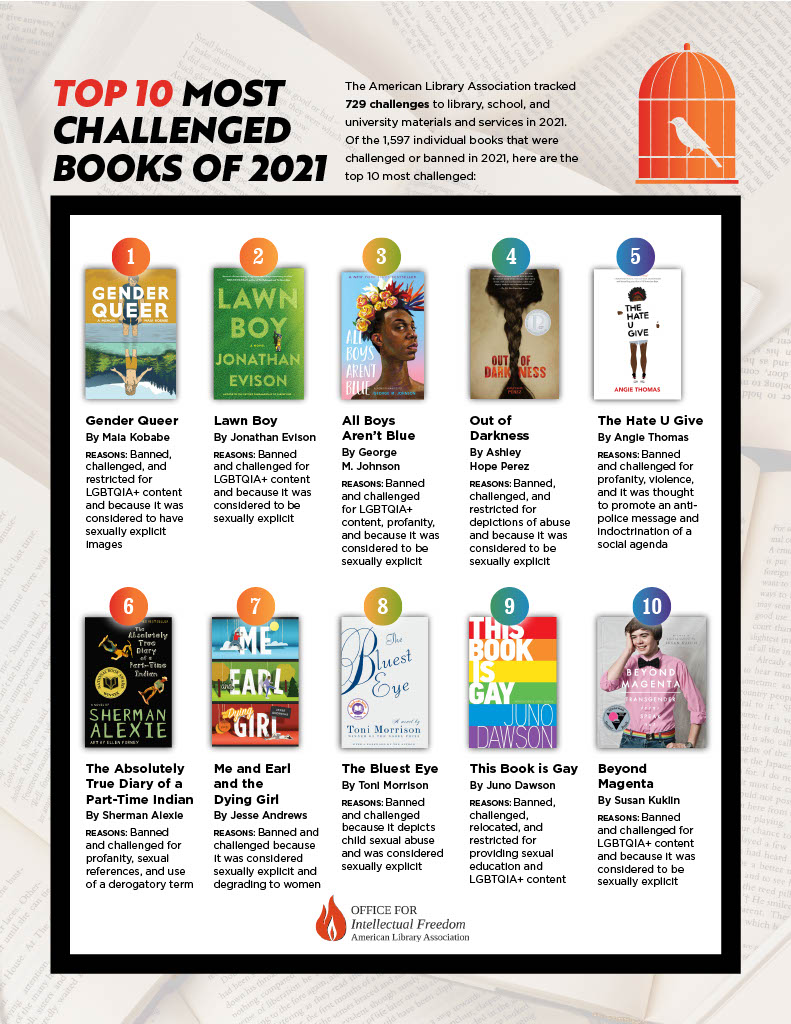 Book challenges occur for numerous reasons but frequent complaints are that a book is sexually explicit, contains offensive language, or is inappropriate for its intended age group. One of the most targeted books of 2021 was Maia Kobabe's graphic memoir about sexual identity, "Gender Queer." Most of the recent book challenges target YA books with LGBTQ+ characters, according to the ALA. In their statement on the widespread efforts to censor books in U.S. schools and libraries, they write:
"In recent months, a few organizations have advanced the proposition that the voices of the marginalized have no place on library shelves. To this end they have launched campaigns demanding the censorship of books and resources that mirror the lives of those who are gay, queer, or transgender, or that tell the stories of persons who are Black, Indigenous or persons of color. Falsely claiming that these works are subversive, immoral, or worse, these groups induce elected and non-elected officials to abandon constitutional principles, ignore the rule of law, and disregard individual rights to promote government censorship of library collections. Some of these groups even resort to intimidation and threats to achieve their ends, targeting the safety and livelihoods of library workers, educators, and board members who have dedicated themselves to public service, to informing our communities, and educating our youth. 

ALA strongly condemns these acts of censorship and intimidation."

"ALA Statement on Book Censorship", American Library Association, November 29, 2021.
Historically, many books now considered classics were challenged, including school curriculum mainstays such as The Great Gatsby, The Catcher in the Rye, To Kill a Mockingbird and Of Mice and Men. Book bans may seem like a uniquely American problem, but they happen in Canada too. Here is a list compiled by the CBC of 12 Canadian books that have been challenged, and where to find them at McGill. This is why Canadian libraries have their own version of Banned Books Week, the Freedom to Read Week in February.