As with every pre-midterm season at McGill, the campus is buzzing with life! Students are enjoying the last bouts of September sun, lining up for free plants, and queuing at McGill Farmers' Market.
In the midst of all the havoc, McGill Library's Digital Scholarship Hub (DSH) is back again with its Fall workshop lineup!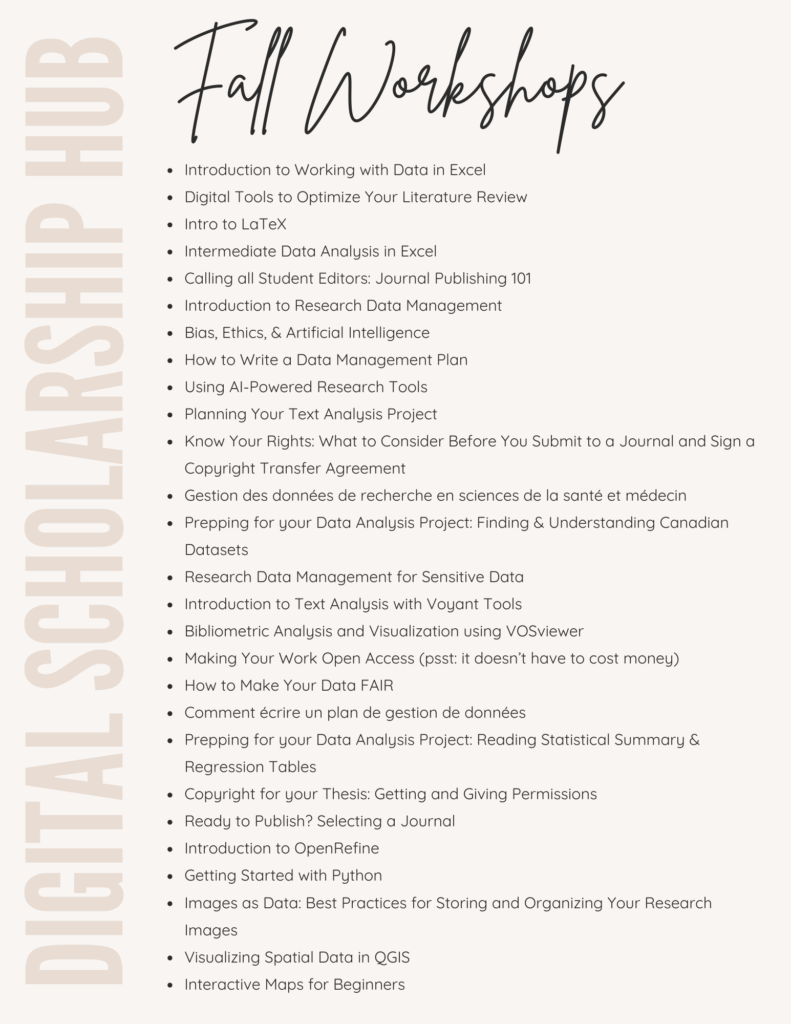 Bias, Ethics, & Artificial Intelligence – September 29, 11am
Are you someone who closely follows the roller coaster ride that is the tech industry? With its continuously growing market and Artificial Intelligence (AI) innovations, it is the point of discussion from every household to every seminar room.
What side of the debate are you on? How ethical do you find the everyday innovations in the industry? Focused on understanding the impact of AI on society as we know it, this workshop aims to dip a toe into these tumultuous waters in order to find ethical solutions to AI development.
Join presenters Amanda Wheatley and Sanday Hervieux as they explore the core issues surrounding AI ethics and how we can overcome these issues to broaden our understanding of technology.
How to Write a Data Management Plan – October 3, 12pm
This workshop will provide attendees with practical tips and examples on how to write a data management plan for funders, journals, or other oversight organizations. We will demo an online interactive tool, Portage DMP Assistant, which has built-in templates particular to the Canadian research context. Attendees will also have a chance to discuss discipline-specific issues related to planning for the management of data actively during the research process and for long-term archival purposes.
Making Your Work Open Access (psst: it doesn't have to cost money) – October 25, 12pm
Are you a student-run journal considering the latest trends in scholarly publications? Or perhaps a graduate student looking at the implications of making your thesis public? Well worry no more, you're not the only one!
This online presentation brings together a group of people looking to make their work open to access. While the discussion will be focused on the role of grant-holders and the support they can find on-campus for making their work open access, the presentation is open to everyone!
Ready to Publish? Selecting a Journal – November 3, 12pm
Finished your research and looking to publish? This 45-minute workshop will outline how to locate and assess relevant journals in your discipline. This workshop will also discuss the basics of the peer review process, journal selection considerations, and frequently asked questions about publishing. This workshop will serve as an introduction to the topic for new researchers and those just starting to publish.
At the end of this workshop participants will be able to:
Describe tools and strategies to identify appropriate journals in their discipline
Describe the peer review process
Describe main considerations when choosing a journal
Also, stay tuned for our Workshop Spotlights over the next few weeks!
Check out DSH's calendar for their upcoming workshops and office hours schedule. And for further queries, email us at hssl.library@mcgill.ca.