This month McGill Library hosted over 100 international high school students who are part of the McGill Summer Academy. The students were divided into two streams—International Relations and Neuroscience.  Humanities and Social Sciences Librarians, Katherine Hanz and Emily Kingsland, designed and led a mobile scavenger hunt for the 50 International Relations students, as well as a fake news workshop called Black, White, and Re(a)d: How to Tell Real News from Malarkey.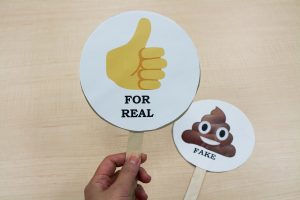 The workshop featured a game called Fake or For Real which incorporated an Instagram Story video series of the same name. It was created, produced, and kindly shared with the Library by Leah Green and Eleni Stefanou at The Guardian. Students were given a recent international news headline and asked to vote with their instincts – was this fake or for real? They then had less than minute to search online to find the answer and vote again.
The students – who are currently entering grades 11 and 12 – got into lively debates about the veracity of the news. It was an eye-opening experience for everyone – the librarians included!
The workshop was such a hit that it will be tailored and offered to McGill students this fall. So mark your calendars, folks! Click here to register.