Our Passionate Liaison Librarian with a Knack for Connecting People and Information
We are delighted to introduce our newest team member, Veronica Bergsten to the Humanities and Social Sciences Library as the new Liaison Librarian for Kinesiology and Physical Education, Linguistics, and Philosophy. Veronica is a dedicated librarian with a passion for serving the community and a love for all things music. Her journey into the world of libraries began with a deep-rooted desire to help others and an insatiable curiosity for information.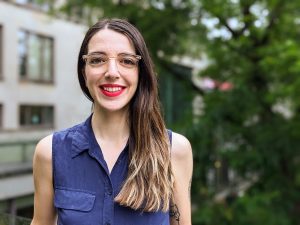 Veronica's pursuit of a career in libraries was motivated by her innate love for finding information and connecting with new people. After completing her undergraduate degree, she was drawn to the idea of a profession that would allow her to continuously search for knowledge while making a meaningful impact on the lives of others. Little did she know that librarianship perfectly encapsulated both of these passions.
As Veronica delved deeper into the profession, she discovered the incredible potential to utilize the skills she had acquired while working in a university setting. Her experiences at the University of Alberta, from her role as a student worker at the University of Alberta Libraries to supervising the ONEcard program, cultivated a service-oriented mindset that became the cornerstone of her professional practice.
During her Master's of Information Studies program, Veronica further honed her expertise as a Graduate Student Reference Assistant (GSRA) at McGill Library. Here, she had the opportunity to answer reference questions and collaborate with other librarians to conduct workshops. Upon graduation, Veronica embraced the role of a Teaching & Research Librarian at Concordia University Library, where she fostered connections with students, faculty, and researchers across various disciplines. Notably, she played an instrumental role in creating an educational mini-series that explored emerging trends and technologies in the realm of information.
Now, with an array of rich experiences under her belt, Veronica is thrilled to return to McGill and embark on new endeavours in her latest role. Her past experiences have shaped her into a librarian who is committed to helping users on their academic and lifelong journeys. She finds immense joy in teaching users the skills and resources they need, and this unwavering motivation propels her to continuously strive for excellence.
Outside of her professional life, Veronica is a true connoisseur of music. Her free time is often spent attending concerts and scouring record shops in Montreal, a city renowned for its vibrant music scene. Whether it's discovering new artists to see live or expanding her eclectic vinyl collection, Veronica's love for music knows no bounds. She even enjoys knitting while listening to her favourite records, creating a harmonious blend of relaxation and creativity.
As our readers appreciate getting to know the individuals behind the library services, Veronica's diverse range of interests and hobbies truly adds depth to her character. She eagerly welcomes recommendations for record stores and concert venues, always seeking new avenues to explore the world of music:)
We are delighted to have Veronica join our library team, bringing her passion for serving the community, her wealth of experience, and her vibrant personality. Her dedication to connecting people with the information they seek is bound to enhance the services we provide. Let's give Veronica a warm welcome as she begins this exciting new chapter in her journey as a librarian!