Filling a need, once again, thanks to funding from the PGSS Library Improvement Fund, the Humanities and Social Sciences Library has just received two new "Quiet Pods".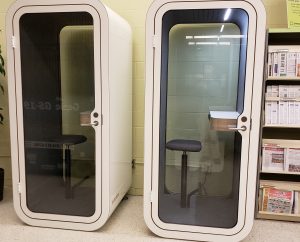 Students in search of a silent room to hold a private telephone call, web conference or job interview have two new spaces to try in HSSL.
The pods are soundproof. They have power in their shelf, and a light and fan for circulation that turns on as soon as the pod is occupied.
The pods were designed and built by Framery, an award-winning office design firm in Finland. The Framery O pod is constructed with sustainably sourced materials. The pods are echo-free and provide a comfortable working environment for one, that includes access to McGill's wireless network.
Located on the main floor (M1) of the McLennan Library building, adjacent the Recently received – newspapers and journals shelves, the pods are currently available without a booking. Be sure to send us your feedback, once you have tried one.