Julia Lovell has won the 2019 Cundill History Prize for her book, Maoism: A Global History (The Bodley Head, Knopf).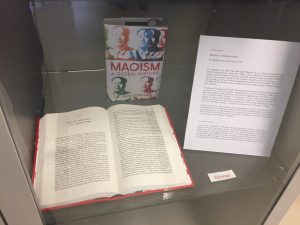 Each year the Cundill Prize, administered by McGill University and selected by an international jury, recognizes the book the "embodies historical scholarship, originality, literary quality and broad appeal." It is the most lucrative prize of its kind, with winners receiving an award of US$75,000 and two runners-up receiving US$10,000.
To highlight the achievements of these authors, the Humanities and Social Sciences Library has put on an exhibition on the main floor of the Redpath Library Building showcasing the eight shortlisted books for this year's prize:
Julia Lovell, Maoism: A Global History (Winner)
Mary Fulbrook, Reckonings: Legacies of Nazi Persecution and the Quest for Justice (Finalist)
Jill Lepore, These Truths: A History of the United States (Finalist)
Sunil Amrit, Unruly Waters: How Rains, Rivers, Coasts, and Seas Have Shaped Asia's History
Helen Berry, Orphans of Empire: The Fate of London's Foundlings
David Blight, Frederick Douglass: Prophet of Freedom
Toby Green, A Fistful of Shells: West Africa from the Rise of the Slave Trade to the Age of Revolution
Victoria Johnson, American Eden: David Hosack, Botony, and Medicine in the Garden of the Early Republic
Accompanying the exhibition is a display of library copies of this year's nominees and past finalists that readers can borrow.