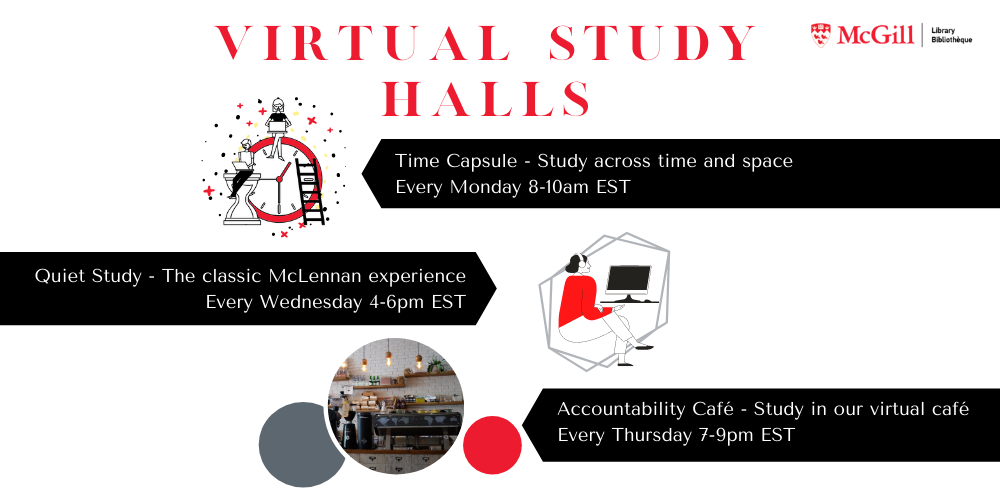 In a study funk? We get it.
It can be hard to work from home, manage your time well, and feel supported in your academics during these unprecedented times. If you are searching for a new way to connect with students in a safe and productive environment, look no further! The McGill library is offering weekly virtual study halls at varying times so that no matter where you are checking in from, you'll feel like you're back at McGill with other students. Each hall has a unique theme, offering different environments or music every week!
Check out the study halls offered this semester below:
---
Time Capsule – Every Monday from 8am-10am EST.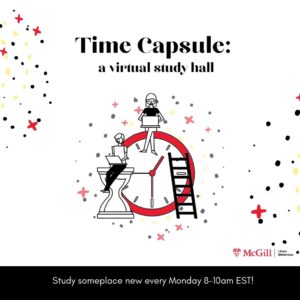 Exhausted from this timeline? Don't you wish we could just travel to a different era? Stop dreaming about the past and ZOOM there! Time Capsule serves as a virtual study hall for history buffs, travel aficionados, and everyone in between!
Each week we will feature different museums, iconic moments in time and space, and beautiful images from the past. The main working atmosphere will be quiet music that truly transports you to the weekly theme, however breakout rooms will be created for silent and group spaces as needed. Use Time Capsule's fun atmosphere to inspire productivity, while enjoying the presence of other students.
---
Virtual Study Hall – Every Wednesday from 4pm-6pm EST.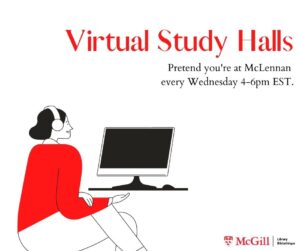 Missing the McLennan and Redpath Library Buildings? Need some time to work on that upcoming paper? Perhaps you're trying to catch-up on class readings? The McGill Library Virtual Study Halls are a great way to schedule time in your day to get work done. You can let us know what you're working on or what you'd like to accomplish during the session and we will help motivate you to get it done.
Join us for a combination of silent and group study rooms that you will make you feel like you right sitting right back in the library!
---
Accountability Café – Every Thursday from 7pm-9pm EST.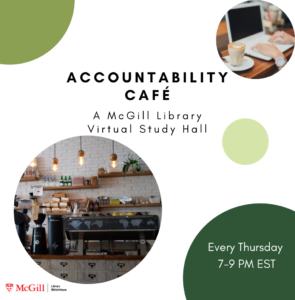 Missing those days when you could study in one of Montreal's cafés for a change of scenery? If the answer is yes, this virtual study hall is for you! Though a lot of us can't head down to our favourite coffee spot and park ourselves in the corner, we can work together in a safe and relaxing (virtual) space while holding each other accountable to actually write that essay!
Each week will include a café playlist and accountability check-in to make sure you get done what you really need to. Show up with your favourite mug full of a warm drink and be productive with us every Thursday. See you there!
---
From a student's perspective, it can be hard to motivate yourself when you're outside of the normal learning environment. Since many students are studying at McGill from afar, the goal of these study halls is to bring us all a little bit closer – even if it's just for a few hours. If you have any questions please feel free to email hssl.library@mcgill.ca.