A seven-foot frame
Rats along his back
When he calls your name
It all fades to black
Yeah, he sees your dreams
And feasts on your screams… ♪♪
Does this ring a bell? It sure should, it is only one of the most popular songs of the year! Disney's We Don't Talk About Bruno (From "Encanto") hit the charts soon after its November 2021 release, popularised by its catchy tunes and heavy social media presence.
It seems perfect then, that to bring everyone out of the midterm blues -and to lift the spirits of the ones who have a second-round of midterms lined up- the Humanities and Social Sciences Library (HSSL) brings to you our Mid-March Redpath Book Display, We Don't Talk About Bruno!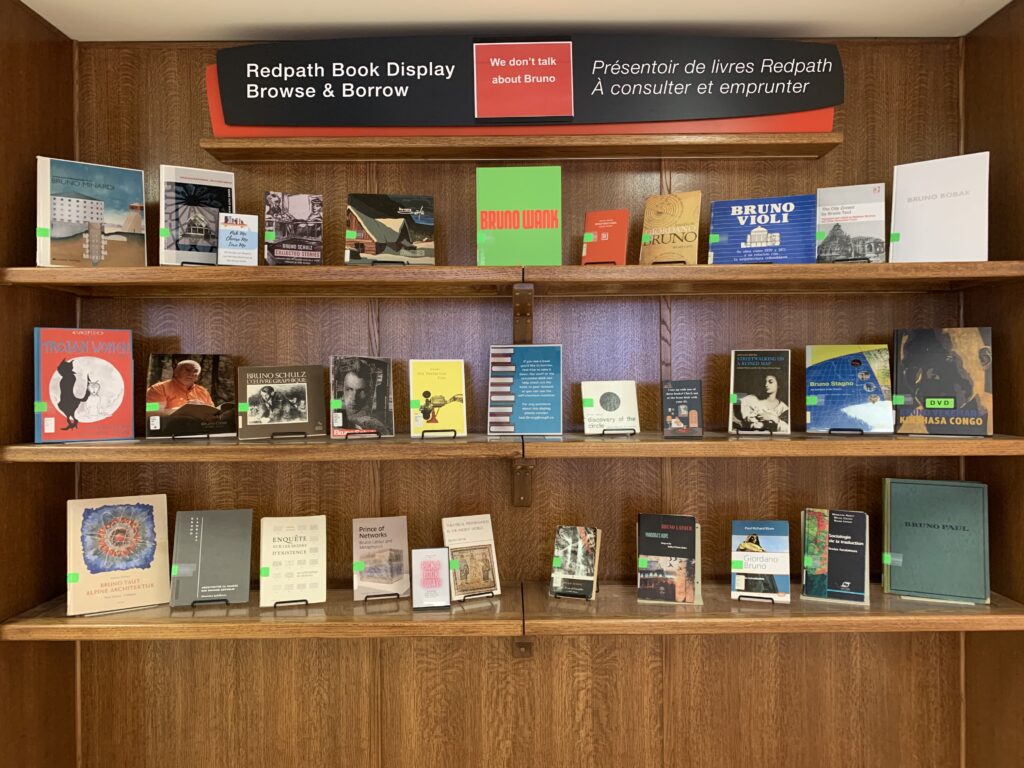 Presenting a diverse collection of books hand-picked from various disciplines such as Art, Architecture, Anthropology and many more, this display is dedicated to talking about Bruno!
We have always been ones to throw caution to the wind, no? So let's take this chance and talk about Bruno! Spare a few moments to check out our quirky display between study sessions and acquaint yourself with the Brunos that have made their presence known through the years, whether in the titles of our special selection or as their authors!
♪♪ …Don't talk about Bruno, no! (Why did I talk about Bruno?)
Not a word about Bruno
I never should've brought up Bruno!
You can find a full list of the books on display here.
For more information, contact us at hssl.library@mcgill.ca.