The Puzzle Station on the Redpath Bridge recently found a new home! The ever-popular puzzle has been moved just down the hall on the Redpath main floor. You will now find the table location around the corner from the stairs, close to our group study rooms, piano station, and the exercise bike. This new location will allow for both individual puzzle use and collaborative use.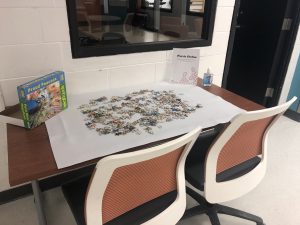 We would like to remind library users, that during this time of the year infections and bacteria can spread quite quickly. Remember to wash your hands frequently or use anti-bacterial hand sanitizer with a high alcohol content.
Thank you to the AUS for funding the Puzzle Station!
In addition to moving the Puzzle Station, we are now providing an additional table for McGill student groups and departments to promote their activities. Groups looking to book the table must fill out the request form online and consult our updated policies. Requests will be processed on a first-come-first-serve basis.
You can also check the tabling calendar in advance to see what times are available.
If you have any questions please don't hesitate to contact us at hssl.library@mcgill.ca