We've reached the beginning of March, and the winter weather is still upon us – the perfect weather for cozying up and indulging in those wonderful comfort foods. March celebrates World Agriculture Day, Tea for Two Tuesday, and national holidays celebrating peanut butter, frozen food, popcorn, chips and dip, waffles, and more. With so many holidays for such scrumptious foods, why not curl up with a yummy book as well?
This month's book display, Food for Thought, features a vast array of books about food – from cookbooks, to fiction, to works discussing the culture and history behind food. There is something for everyone who appreciates the deliciousness of foodstuffs.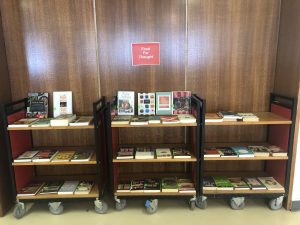 If you're looking for fiction, we have wonderful food-related works by brilliant women writers (March 8th is International Women's Day after all!), such as The Edible Woman by Margaret Atwood, Simple Recipes, a collection of short stories by Madeleine Thien, Goblin Market by Christina Rossetti, Like Water for Chocolate by Laura Esquivel, and Chez Moi by Agnes Desarthe.
Need your Food Network, celebrity-chef fix? Food Media : Celebrity Chefs and the Politics of Everyday Interference by Signe Rousseau explores the rise of the celebrity chef and how they influence everyday eating, and features chapters written by chefs like Jamie Oliver, Rachel Ray, and Nigella Lawson. You could also explore the lives of famous chefs like Julia Child (My Life in France), Betty Crocker (Finding Betty Crocker), and Anthony Bourdain (Kitchen Confidential).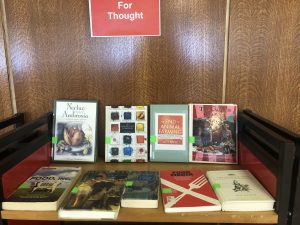 You can also explore topics such as food as revolution (Southern Food and Civil Rights: Feeding the Revolution; Edible Action: Food Activism and Alternative Economics; Appetite for Change: How the Counterculture Took on the Food Industry), cooking (Salt, Fat, Acid, Heat; Chinese Home-Style Cooking; A History of Food in 100 Recipes), and the dangers of unhealthy eating (Fast Food Nation; Food Inc; Cooked.).
No matter what your reading preference, we have something on the menu for everyone! Come check us out in the Redpath Library hallway on the main floor.
---
This book display was created by our Graduate Student Reference Assistants, Lindsey Franks and Virginia Larose.