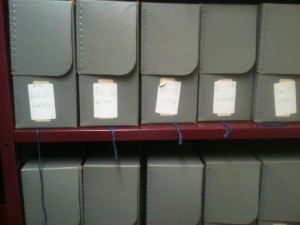 The library has finished processing the papers of Dr. Joseph Stratford. Dr. Stratford was born in Brantford, Ontario, in September of 1923. He began his studies in science at McGill University in 1943 and was the President of the McGill Osler Society and graduated from medical school in 1947. After training in England at the National Hospital in Queen Square, he completed his residency at the Montreal Neurological Institute (MNI) under Dr. William Cone. In the 1960s, Stratford joined the Montreal General Hospital as Director of the Division of Neurosurgery at the behest of Dr. Rocke Robertson. There, Stratford participated in the development of a neurological intensive care ward, the McGill-MGH Pain Centre, and the Palliative Care Task Force.
This fonds consists of medical agendas and professional correspondence between Stratford and colleagues from the Montreal General Hospital, Montreal Neurological Institute, and elsewhere. It also includes personal research materials on the causes and treatments of pain, publications and drafts of publications, and daily appointment books.
For more information, please feel free to contact the library at osler.library@mcgill.ca. Find out about other McGill physicians through our archival database.
Missed our guide to using the archives at the Osler Library? Have a look here.