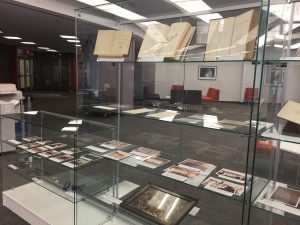 The Osler Library has installed a new mini-exhibition highlighting some items that shed life on past McGill Med student life. Textbooks, exams, photographs, and artefacts provide an important pictorial record of student life at McGill's medical faculty and its teaching hospitals.
---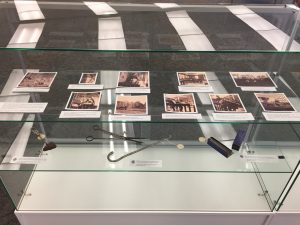 Ten photographs from the Isadore Hirshberg Fonds document the early career of an American medical student at McGill. Isadore Benjamin Hirshberg (1890-1965) was born in Bay City, Michigan, and began his medical studies at McGill in 1909 and graduated in 1914. In 1913 he trained at the Alexandra Hospital for Infectious Diseases when John McCrae was on staff and in 1914 interned at the Montreal General Hospital. During the First World War he served at the Canadian Explosives plant at Beloeil, Quebec, and was later among the founders of the Jewish General Hospital.
The artefacts on display include a reflex hammer, a glass syringe, and a doctor's kit, as well as a blunt hook and perforator, two instruments used in childbirth emergencies.
Other ephemera show the administrative side of student life: items such as admission cards, invitation cards, and certificates document medical student William B. Malloch's from 1863-1870.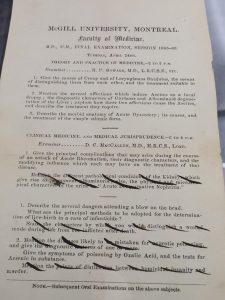 Two examinations from 1865-66 show what 19th-century med students were expected to know. One question on the exam for "Theory and Practice of Medicine" asks, "Give the causes of Croup and of Laryngismus Stridulus, the means of distinguishing them from each other, and the treatment suitable to them."
---
Our new display is located in the 3rd floor study space in the McIntyre Medical Building, 3655 Promenade Sir-William-Osler, open from 9-5, Monday through Friday.