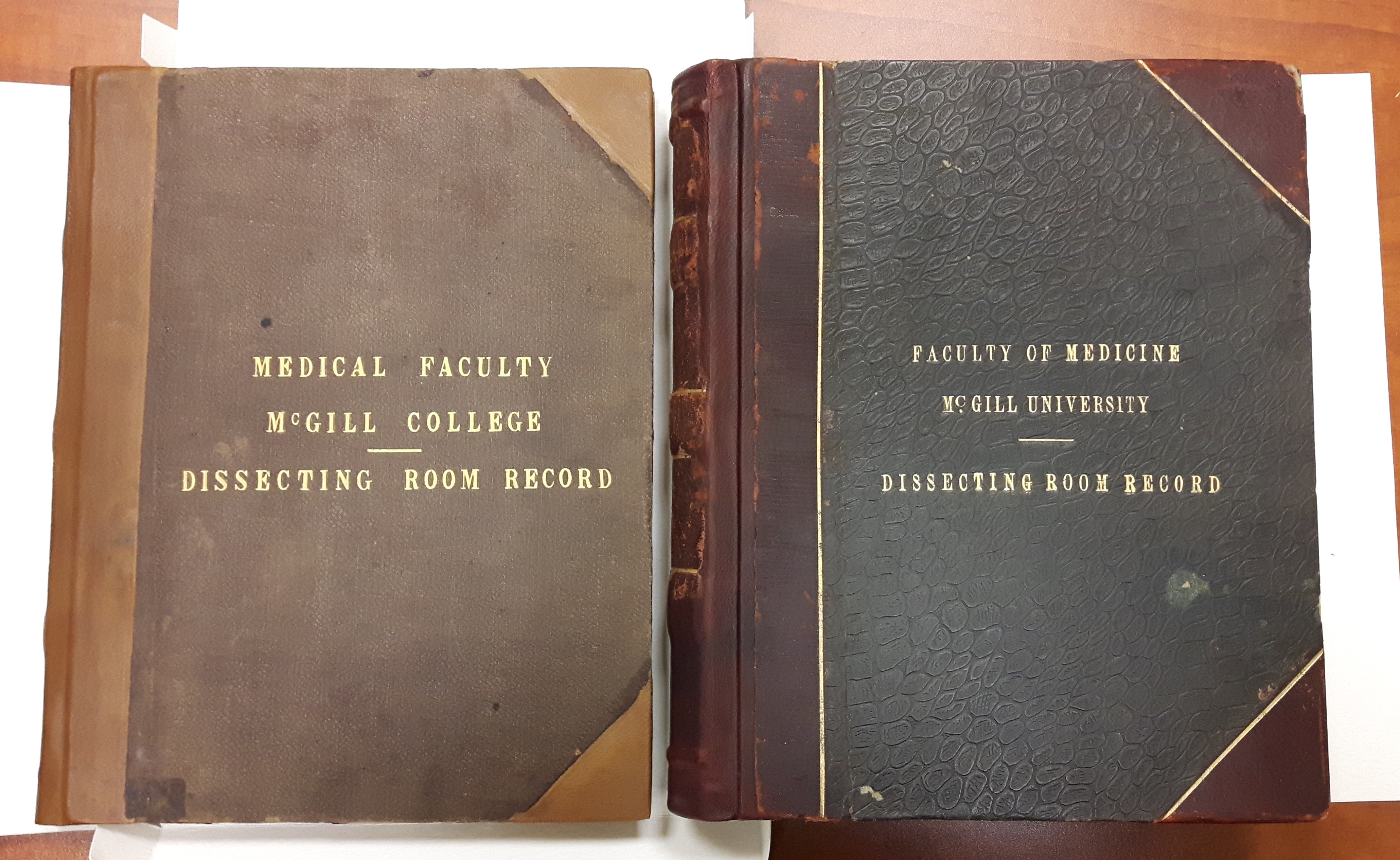 We are pleased to have these historical records back at the Osler Library after receiving recent conservation treatment. These books contain records of all McGill Faculty of Medicine dissection cadavers in the Department of Anatomy from 1883-1891, and 1896-1908.
When the Legislative Assembly of the Province of Canada's Anatomy Act of 1843 was amended in April 1883, Senior Demonstrator of Anatomy Dr. Richard Lea MacDonnell began keeping these detailed records at McGill. Prior to the Anatomy Act, body-snatching was a nefarious problem often associated with the study of anatomy. The 1843 and 1883 Acts allowed for more corpses to be made available to medical schools for the purpose of teaching and learning. The records preserved within these books provide details and evidence of the Department of Anatomy's legally acquired cadavers at the time. Each entry includes details such as name, sex, age, cause of death, religion, date received, which hospital the cadaver was received from, and the date and location of burial.
Richard Lea MacDonnell (1856-1891) was the son of Dublin surgeon Dr. Robert Lea MacDonnell. A graduate of McGill in 1876, McDonnell went on to become a prominent figure within the Faculty of Medicine before his untimely death at the age of 35. William Osler paid tribute to his friend and colleague in the New York Medical Journal, writing: "Although only thirty-five years old, he [MacDonnell] had reached a position which gave scope to abilities of first-class order and afforded opportunities of impressing upon a large class of students those qualities of mind so essential in the teacher, so priceless to the taught – honesty, system, and painstaking care" (NYMJ, 54: 162, 1891).
Below is a composite portrait of McGill Faculty of Medicine in 1882 from our William Osler Photo Collection. William Osler is standing fourth from left, and Richard Lea MacDonnell stands on the far right. A new Richard L. MacDonnell Collection (P133) has been created in the Osler Library Archives, and these dissection books along with several fascinating scrapbooks put together by MacDonnell are now available to view upon request.