Come join us this Wednesday, October 26th for Osler Day 2016!
The Pam and Rolando Del Maestro William Osler Medical Students Essay Contest has selected three  finalists who will each have the opportunity to present before the judges panel from 11:30-1:00pm in the Jonathan C. Meakins Auditorium, McIntyre Medical Building 5th Floor, 3655 Promenade Sir William Osler.
The 2016 finalists are:
"Being placed at the Douglas Mental Health Institute for the family medicine shadowing program in first year was quite the adventure for me. Over time, I became increasingly interested in the history of mental health institutions like the Douglas, mental health care policies and more broadly, the history of psychiatry as a medical field."

"As medical students, we are exposed to plenty of dogmas. Yet, medical dogma, like everything else in the world is susceptible to error. In accepting this, I sought to elucidate the origins of the formerly accepted belief that newborns did not feel pain"
Faculty, students, and friends are all welcome to attend and show their support for this year's finalists. More details about the contest can be found here. Our special thanks to the Medical Students' Osler Society, the Board of Curators of the Osler Library of the History of Medicine, and Pam and Rolando Del Maestro for their continued dedication with this celebrated annual event.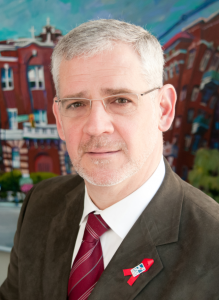 In the evening, at 6:00pm in the Charles F. Martin Amphitheatre, the 39th Annual Osler Lectureship welcomes distinguished guest lecturer Dr. Julio SG Montaner, OC, OBC, MD, DSc (hon), FRCPC, FCCP, FACP, FRSC.

Director, BC Centre for Excellence in HIV/AIDS, St. Paul's Hospital, Providence Healthcare; Professor and Head, UBC-Division of AIDS, UBC and St. Paul's Hospital Foundation Chair in AIDS Research; UNAIDS Special Advisor on HIV Therapeutics.
Dr. Montaner played a key role in establishing the efficacy of Highly Active Antiretroviral Therapy (HAART) and since then has established the role of 'Treatment as Prevention' using HAART to simultaneously decrease progression to AIDS and death, as well as HIV transmission.
From Treatment to Prevention: Rethinking our Approach to Contagious Diseases
In 1996, medical researchers in British Columbia discovered that combination antiretroviral therapy (cART) significantly improved the quality and length of the lives of patients with HIV/AIDS, but only after the province began providing cART for free did researchers discover something equally profound: cART also prevented HIV transmission. This talk examines the journey from treatment to prevention and the implications for how we fight contagious diseases at local and global levels.