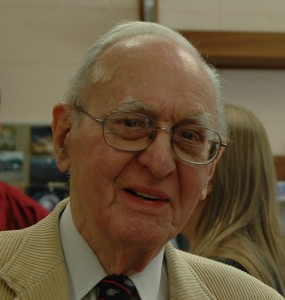 We are sorry to announce the death of Dr. William Feindel, who passed away on Sunday, January 12th at the Montreal Neurological Institute and Hospital after a brief illness.
Born in Bridgewater, Nova Scotia, he received a B.A. in Biology from Acadia University in 1939, a M.Sc. from Dalhousie University in 1942, and an M.D., C.M. from McGill University in 1945.  He was then awarded a Rhodes Scholarship and earned his D. Phil From Oxford in 1949.
Dr. Feindel had a long and very illustrious career, spending many years with the Montreal Neurological Institute, where he founded the William Cone Laboratory for Neurosurgical Research and became the first William Cone Professor of Neurosurgery and then Director of the Institute from 1972 to 1984.
Dr Feindel  was a great lover of medical history and a mainstay of the Osler Library, serving as Honourary Osler Librarian, Curator of the Penfield Archive and as a member of the Board of Curators and its Standing Committee for a number of years.  His support and love for the library was second to none. He was also a true renaissance man and showed great musical ability and appreciation.
The library will very much miss his kind and generous presence, his wise advice and his vision, and extends its deepest sympathy to his family and friends