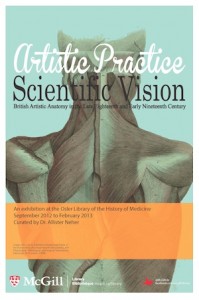 The exhibition catalogue for our current exhibition, "Artistic Practice Scientific Vision: British Artistic Anatomy in the Late Eighteenth and Early Nineetenth Century," curated by Dr. Allister Neher is now online!
This vivid exhibition explores the intersection of art and anatomy in late eighteenth and early nineteenth century Britain. Medical students and art students of the period frequented the same milieux, as aspiring doctors studied drawing at places like London's Royal Academy of Arts and young artists studied anatomy at private medical schools.
Be sure not to miss the exhibition in person, on through the end of February.