In celebration of the centennial of this famous World War I poem, we are reposting this blog entry from Remembrance Day 2013. The two contemporary copies of John McCrae's "In Flanders fields," one written by the poet himself, housed in our collection will be on view tomorrow at the Osler Library, 3rd floor, McIntyre Medical Building, 3655 Promenade-Sir-William-Osler. Please keep an eye out as well for a special Global News segment tomorrow featuring this important document of Canadian history.
---
"In Flanders fields the poppies grow / Between the crosses, row on row"
John McCrae's poem remains one of the most influential pieces of Canadian literature and gives us our most enduring World War I imagery: the red poppies.
Born in Guelph, Ontario, McCrae was a career soldier and practicing physician.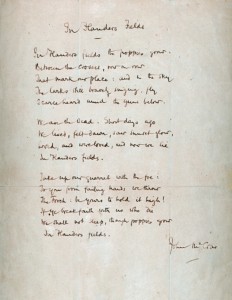 Before the war, he worked at the Montreal General and the Royal Victoria Hospital, and taught at McGill. Although McCrae was a trained physician, he joined an army fighting unit at the outbreak of the First World War. There, he experienced some of the first chemical weapons attacks during the second battle of Ypres in Belgium. The story goes that McCrae penned his poem after the burial of a close friend and medical school colleague, when he noticed the poppies growing over the graves. This manuscript, written in McCrae's hand, was left to the Osler Library among the literary archives of fellow physician and McGillian John Andrew Macphail. In this manuscript, McCrae ends the first line with the word "grow." This is a change from the published version, in which the line finishes "blow." McCrae wrote out this copy of the poem in a 1916 letter to a friend, Carleton Noyes, modestly mentioning that this piece had achieved some notoriety.
The library also has a second early copy of the poem. It is found in the diary of Clare Gass, which recounts her experiences as a nurse with the Canadian Army Medical Corps in France and England in 1915 and 1916. Gass was born in Shubenacadie, Nova Scotia, on 18 March 1887. She left home for Montreal to train as a nurse at the Montreal General Hospital School of Nursing from 1909 to 1912, working afterwards as a private nurse. After a brief training period in Quebec, she left for Europe in May of 1915 as a Lieutenant nursing sister with the Canadian Army Medical Corps, No. 3 Canadian General Hospital (McGill). In her diary, "In Flanders Field" is copied out in an entry dated October 30th— nearly six weeks before the poem's first publication in the magazine Punch on December 8, 1915. After that, it quickly became the most popular piece of poetry of the age and its central image an enduring symbol of loss.