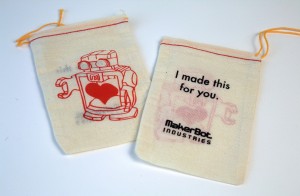 The latest Wired magazine arrived at my door today and on the cover: a MakerBot three-dimensional printer, slated to change the world. There are actually two new machines available for under three thousand dollars that can create objects in bioplastic from CAD files. A 3D printer in 4-6 weeks? Crazy, right?
The Wired article brought to mind Cory Doctorow's story, Printcrime, originally published in 2006 in Nature. It is a short story and a good one so I won't give away the ending here but it is about a man who goes to prison for building and operating a 3D printer.
I admit that I have been day dreaming about 3D printers ever since I noticed that there is the possibility of a live demonstration on October 20 at the Access 2012 library technology conference, from folks at Dalhousie Libraries. I'll be there with camera in hand and I'll check back in with you afterwards!
Image from Makerbot Industries