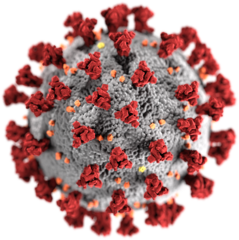 Image from Wikimedia Commons
Thanks very much to Melisa Eraslan for submitting her MIMM 214 assignment to post on The Turret. This guest post will explain why older people are more vulnerable to COVID-19.
We are currently facing one of the biggest pandemics seen in history: coronavirus disease (COVID-19), an infectious disease caused by the coronavirus named SARS-CoV-2. Thus far, it has afflicted over 100 million people worldwide and taken the life of 2 million. (1) There is a vast heterogeneity in COVID-19 disease severity; the spectrum of infection ranges from mild to fatal outcomes. Amid various risk factors for severe infection, age is the largest one; older adults (aged above 60 years) are disproportionately afflicted, with the highest number of infections, complications, hospitalizations and deaths. (2) Although research is still underway, scientists have unveiled certain reasons why this age group is particularly vulnerable to COVID-19.
The heightened COVID-19 risk in the elderly is multifactorial. One contributing factor involves enhanced exposure to the coronavirus because of increased shedding from infected cells into the environment, atypical disease manifestation, and difficulty quarantining. (3) Moreover, increased frailty due to preexisting conditions (comorbidities) and the decline in organs' physiological capabilities, also increase elders' susceptibility to the virus. (4) Equally important, as age advances, the immune system weakens, which is called "immunosenescence." (3)
The human immune system is composed of many cells, molecules, tissues and organs. Under normal circumstances, our immune system orchestrates a complex response, referred to as inflammation, which protects us of harm from small disease-causing infectious agents referred to as germs or pathogens. The immune system is separated into the innate immune system, our body's first line of defense, and the adaptive immune system, our second-line force of acquired immunity against specific pathogens. Pathogens – namely, viruses – gain a foothold in humans by evading our built-in immune mechanisms to cause disease.
When encountered with a virus, innate immune cells secrete messenger molecules called type 1 interferons, which are warning signals prompting protective antiviral activity. (5) In older patients, SARS-CoV-2 is particularly stealthy in its strategy in bypassing our innate immune defenses, specifically, the triggering of these warning signals, which results in a delay in the innate immune response. (6) Furthermore, with aging comes chronic inflammation, referred to as "inflammaging." (3) This is a baseline continual production of messenger molecules promoting inflammation (such as IL-6 and TNF-α). Although inflammation normally protects us, when triggered without appropriate stimulation from pathogens, or when overstimulated, it can be detrimental. Inflammaging compounded with the coronavirus can cause the aged innate immune response to flare out of control, exacerbating COVID-19's impact on the elderly. (7)
On the other hand, the adaptive immune system surges into the battle field soon after the innate response. The adaptive system's main fighters are T and B cells: immune cells specialized in defending against specific pathogens upon their activation. T and B cells are able to respond to new pathogens by directly and indirectly killing infected cells, and by secreting germ-neutralizing proteins called antibodies. Prior to their activation, these cells exist as "naïve" cells, not yet programmed to fight, but eagerly waiting to. In a recent study, Moderbacher et al. shows that this quantity of "naïve" T cells in our body dwindles with age, leaving elders depleted of T cells able to fight against new pathogens. (8) Fewer soldier cells dealing with never-before seen attackers, such as the coronavirus, increases disease severity in older adults.
Research continues unabated as scientists scramble to elucidate the full story behind COVID-19's lethality for the elderly. What we do know is that the weakened and dysfunctional immune system in elders is a key part of the story, since it responds to the virus inadequately. On the bright side, the advent of COVID-19 vaccines is encouraging news for populations at risk, as vaccination is able to boost the weakened aging immune system. Needless to say, it is vital to follow pandemic regulations to protect our vulnerable populations from this disastrous virus.
References
BBC News. Covid map: Coronavirus cases, deaths, vaccinations by country [Internet]. London ENG: BBC News; 2021 [updated 2021 Feb 6; cited 2021 Feb 7]. Available from: www.bbc.com/news/world-51235105
Ottawa Public Health. Older Adults & COVID-19 [Internet]. Ottawa CAN: Ottawa Public Health; 2021 [updated 2021 Feb 5; cited 2021 Feb 7]. Available from: www.ottawapublichealth.ca/en/public-health-topics/Older_Adults_and_COVID-19.aspx
Smorenberg AN, Peters ED, Daele PA, Nossent ES, Muller MA. How does SARS-CoV-2 target the elderly patients? A review on potential mechanisms increasing disease severity. Eur. J. Intern. Med. [Internet]. 2020 Nov 30 [cited 2021 Feb 6]; 83(1):1-2. Available from: doi.org/10.1016/j.ejim.2020.11.024
Begley SH. What explains Covid-19's lethality for the elderly? Scientists look to 'twilight' of the immune system [Internet]. STAT News; 2020 Mar 30 [updated 2020 Apr 1; cited 2021 Feb 7]. Available from: www.statnews.com/2020/03/30/what-explains-coronavirus-lethality-for-elderly/
Murphy KE, Weaver, C. Janeway's Immunobiology. 9th edition. Washington: WW Norton & Co; 2016 Jun 13.
Sette AL, Crotty SH. Adaptive immunity to SARS-CoV-2 and COVID-19. Cell [Internet]. 2021 [cited 2021 Feb 6];1(6):10-11. Available from: doi.org/10.1016/j.cell.2021.01.007
Nidadavolu LO, Walston JE. Underlying Vulnerabilities to the Cytokine Storm and Adverse COVID-19 Outcomes in the Aging Immune System. J. Gerontol. [Internet]. 2020 Aug 25 [cites 2021 Feb 5];1(209): 2-4. Available from: doi.org/10.1093/gerona/glaa209
Moderbacher CA, Ramirez SY, Dan JE, Grifoni AL, Hastie KA, Weiskopf, Belanger SI. Antigen-Specific Adaptive Immunity to SARS-CoV-2 in Acute COVID-19 and Associations with Age and Disease Severity. ScienceDirect [Internet]. 2020 Nov 12 [cited 2021 Feb 6];183(4):996-1012 Available from: doi.org/10.1016/j.cell.2020.09.038