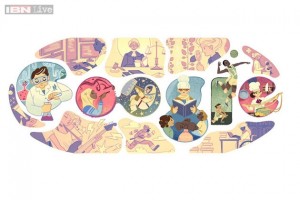 Thanks to a SPARK study done last year you might have noticed the famous Google doodles have been featuring more women!
In 2014 SPARK studied the doodles being placed on Google's homepage and found there was a distinct lack of diversity among the historic figures being celebrated. In fact between 2010 and 2013 only 17% of doodles featured women, and of that 17% only 4.3 % were women of colour.
History is learned in a variety of ways from a myriad of sources, including those fun images showing up on your Google home page! By leaving out women, as history so often does, Google was underrepresenting a group that makes up half the world's population; a group that has also made significant contributions to science, technology, politics, literature and every field in between.
Since being made aware of SPARK's study Google has made an effort to equally represent both men and women in their doodles. When SPARK went back to check Google's progress they found the women are now being featured as often as men.  Just this past week Google featured trailblazing journalist Nellie Bly. To learn more about Bly check out the doodle, http://www.google.com/doodles/nellie-blys-151st-birthday .
For more information on SPARKS study click the following link, http://www.sparksummit.com/doodleus/