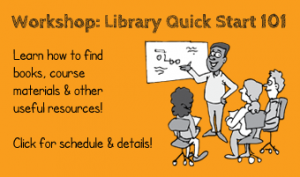 As the new school year begins, hope you have your pencils sharpened and are ready to learn all about the library's resources and services!  (If you don't have any pencils, don't worry we have some spares.)  With workshops and tours happening almost every day, take advantage of your time now by learning about the library so you can save time later.  Everyone is welcome: new students, returning students, undergraduates, graduate students, even parents!   There are two different activities scheduled at Schulich Library.   At Library Quick Start 101, you will learn how to:
Navigate the library website
Find books, course materials, and other useful resources
Get help from a librarian
At the Welcome Tour, you will discover your home away from home!  We'll show you where to:
Find your secret study space
Scan, print, and copy
Check out a book
For the schedule of orientation activities taking place at Schulich Library, please go here.
On behalf of the Schulich Library staff, we look forward to meeting you or welcoming you back soon!