Researchers from F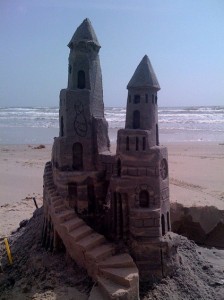 rance, Iran, and the Netherlands have published a journal article on "How to construct the perfect sandcastle" in Nature Publishing Group's Scientific Reports.  They present a mathematical formula for building stable sandcastles, which can be used on land or below water.
According to the authors, the study's "results are of practical interest for civil engineering and soil mechanics… In addition, it explains the maximum height of, and provides us with a recipe to construct, the perfect sandcastle."
In ScienceNordic, one of the authors also explains in layman's terms how it can be applied to building sandcastles on the beach.
Image from Sandyfeet