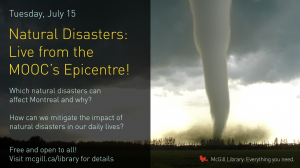 As you may have already heard, there is a MOOC currently being offered on Natural Disasters, which is taught by Professor John Gyakum and Professor John Stix. Related to this, the professors will be giving a talk about natural disasters in the Montreal area. This will include why certain disasters would not happen here and how we can mitigate the impact of natural disasters on our daily lives. They will also be answering your questions about natural disasters.
This event will be held on Tuesday, July 15th from 6:30-8:30pm in the Schulich Library of Science and Engineering. Refreshments will be served.
All are welcome to attend. Registration is required. Please visit http://bit.ly/montrealepicentre to register. I hope to see you there!