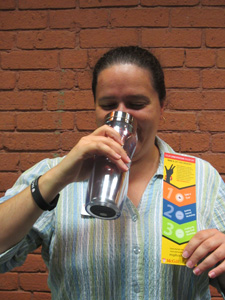 It's that time of year again! Dust off your book belts and make sure your alarm clock is in good working order because it's Back to School! McGill Library is ready to ease you into the new academic year with a lot of fun and informative Library Orientation activities. Attend all three, on a drop-in basis: Library Tour, Getting Started and Finding the Right Stuff, at Schulich Library or any other McGill Library branch and receive a free USB bracelet! Here's how you win:
Pick up your Orientation Passport at any library branch, during Discover McGill Street Fest or at the Discover McGill Service Fair. We will also distribute these at the Tours and Workshops if you don't already have one.
Get your passport sticker after each session you attend.
Once you've collected all three stickers, drop your passport off at any Library Information Desk to receive your free McGill Library USB memory bracelet!
After each Workshop you attend at Schulich Library, your name is entered in a draw and you could win a nifty McGill mug. For a schedule of Schulich Library's Tours and Workshops click here.
Don't forget about The Amazing Library Race being held on Thursday August 30, from 3-5 pm.  For more information or to register click here. Please note that if you participate in the Amazing Library Race, you can earn a sticker for your Orientation Passport in lieu of a Tour. Sound good? See you at the finish line!
Image by Nikki Tummon