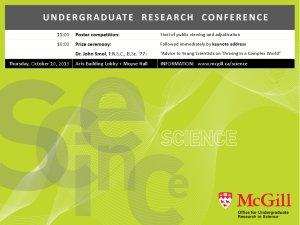 Time: Thursday, October 10, 2013
Schudule:   
11:00 AM – Poster competition – start of public viewing and adjudication
4:00 PM – Prize ceremony, followed immediately by keynote address
After lecture – reception
Location: Arts Building Lobby, 853 rue Sherbrooke
Science students present their research projects. Come check out their posters and talk with the scientists of tomorrow!
Keynote speaker: Dr. John Smol (F.R.S.C., B.Sc. '77), "Advice to Young Scientists on Thriving in a Complex World"
Everyone is welcome, though seats for Dr Smol's talk are limited.
Details: please refer to the Undergraduate Research Conference website.