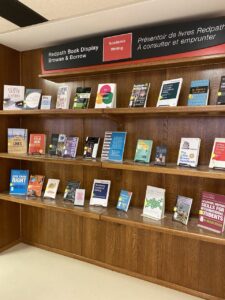 April may be a busy time while you are completing your term papers and exams. It may also be a great time to reflect and determine what you want to accomplish in the upcoming summer vacation. How about uplifting your academic writing skills? No matter what level of study you are doing or what role you are playing in academia, good writing undoubtedly makes a positive contribution to your work. Not only does it help to make your ideas more precise and persuasive, but also it aids in your reasoning, analyzing, and critical thinking.
With that in mind, the McGill Library created a virtual book display entitled "English & Academic Writing", consisting of recent print books, ebooks, e-videos and website resources on academic writing and English communication. They are useful for both instructors and students of various disciplines, including those whose mother tongue is not English. Selected print titles are now available for borrowing on the Redpath Book Display on the main floor of the Redpath Library (aka. the northern part of the Humanities and Social Sciences Library) during the entire month of April.
Here are some of the titles that you may want to start with:
For those whose mother tongue is not English, also feel free to watch some e-videos listed in the "Study English" and "English Composition" series.
Since it takes effort and time to improve your writing, why don't you start the journey with a book from our book display today?