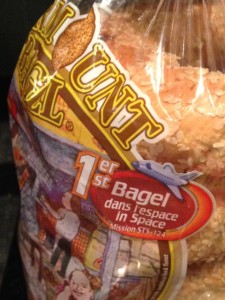 I have the pleasure of living right between Fairmount and St-Viateur Bagel and I refuse to pick a side, but here is one cool thing that I noticed on my bag of bagels from Fairmount: 1st bagel in space!
There has been some attention on Fairmount Bagel lately, since they were thought to have joined the world of Twitter but then the account turned out to be a fake.
The NASA mission to the International Space Station was STS 124 when Montreal-born astronaut, Greg Chamitoff, brought 18 sesame bagels with him. I don't know how I missed this but you can read more about it in this 2008 article from CTV News.