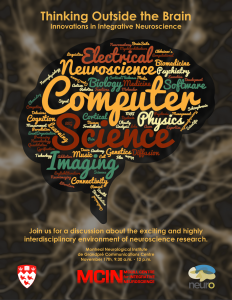 Next week is innovation week at McGill!
I want to bring your attention to an event that is geared towards undergraduate students of all backgrounds. The MCIN is hosting an interactive talk (with breakfast) highlighting the interdisciplinary nature of neuroscience research. 
It is happening at the Montreal Neurological Institute (de Grandpré Communications Centre), Thursday, November 17th, 9:30 a.m. to noon.
Registration is required so sign up today to reserve your spot.
We are entering a new era in our understanding of both healthy and pathological brain function, which underpins all human behaviour.  It is only through interdisciplinary convergence, pooling the expertise of individuals with extraordinarily varied backgrounds of study and experience, that we can continue to advance our understanding of the ultimate puzzle that is the mind.  In this event, we will present ways in which "thinking outside the brain" has proven beneficial to brain research within our centre, along with small-group workshops to foster collaborative learning and encourage synergies.