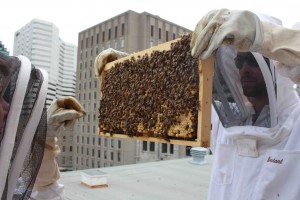 Most visitors to the Schulich Library are probably unaware that there are two thriving beehives on the roof of our building, maintained by the Urban Beekeeping Collective at Santropol Roulant of which I am a member.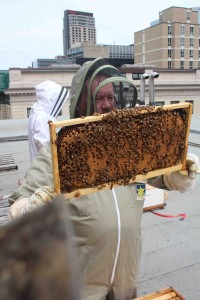 Santropol Roulant is a local charity whose aim is to "…use food as a vehicle to break social and economic isolation between generations and cultures". The Beekeeping Collective works towards this goal by promoting and fostering urban beekeeping, and by educating Montrealers about the importance of pollinators to the source of our food.
Collective members make regular visits to the hives to check on their health (these pictures are from last Sunday's visit) – as well as to prevent uncontrolled swarming!  The good news is that both hives are doing very well and we're quietly hopeful for a bumper crop of urban honey as Summer progresses.