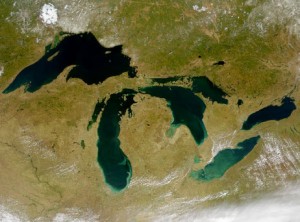 "Earlier this month, researchers at the University of Duluth revealed that the temperature of Lake Superior – the coldest and deepest of the bodies of water that make up the Great Lakes – is sitting at about 20°C, the warmest it's been in a century."
We have all heard that rising temperatures have the potential to impact almost everything. For example, if water levels decrease, loads of shipping vessels would need to be decreased too and shipping costs would increase accordingly. And if levels shrink to the point that the Great lakes were no longer connected, shipping might discontinue.
Rising temperatures also lead to the growth of toxic algal in Lake Erie, which increases pollution for people living in that region.
If you are interested in keeping track of this topic, you could set up an email alert in a database, such as SCOPUS. Search by the topic, and then click "Set alert" from the top menu of the search results page. You will be able to receive the updates weekly in your email.
Adapted from Climate change and the Great Lakes