Gamification is a hot trend in libraries these days, particularly when it comes to teaching information literacy. It is no stranger in the teaching of legal research either – legal scavenger hunts have long been a favourite way for librarians and professors to introduce students to a variety of legal resources.
Over the summer, after learning about escape rooms in libraries, I decided that I wanted to build my own escape room for McGill Law students as a way of promoting the library while teaching legal research. Between codal provisions in Quebec civil law and the detailed rules laid out in the McGill Guide, I had a feeling that I could build the ultimate escape room for our students with locks and puzzles galore. A quick poll on social media suggested that students were a fan of the idea.
Soon after I drafted my scenario, I was approached by the McGill Law Journal's executive editors, who were looking for a fun way to test and improve their editors' research skills. After sharing my escape room plan, we decided to put my theory to the test. I came up with a series of questions that tested the main skills the journal wanted to focus on, and integrated them into our scenario.
The scenario: You are a co-author of a research paper that needs to be submitted to the MLJ by the end of the month. The publication is time-sensitive, as a competing research team is set to publish in the coming weeks. Your co-author, who has the most recent version of the article, has died in a tragic accident (he was in fact, eaten by a polar bear while on vacation in Manitoba). Thankfully, you know that your co-author kept a USB key with the latest version of the paper somewhere in his office. You need to recover the USB key to continue working on the paper and submit in time. (Click here to read the entire scenario, made bilingual thanks to the translation work of Guillaume Lebrun-Petel of the MLJ.)
What to expect: The game includes 14 problems, though you do not have to solve all 14 to "escape". They deal primarily with citation rules, international and foreign law research, and legislative research. Search throughout the room – including through Professor Leresponsable's laptop and personal email – for clues.
How they did: Four groups of three-to-five students were given 35 minutes to escape, and hints were provided along the way. While ultimately none of the groups made it out, a lot of fun was had by all! The closest team was just two questions away from finding the USB!
Are you ready for your turn? That's right – the escape room is now open to the rest of the Faculty! The game will run 9 more times between September 23rd-October 3rd in room 4020 (see updated escape room schedule here). Sign up as a team* of 3-5 individuals and put your legal research skills to the test! Students and professors alike are invited to participate! A small prize will be awarded to the team that manages to escape in the fastest time. Contact katarina.daniels@mcgill.ca to register.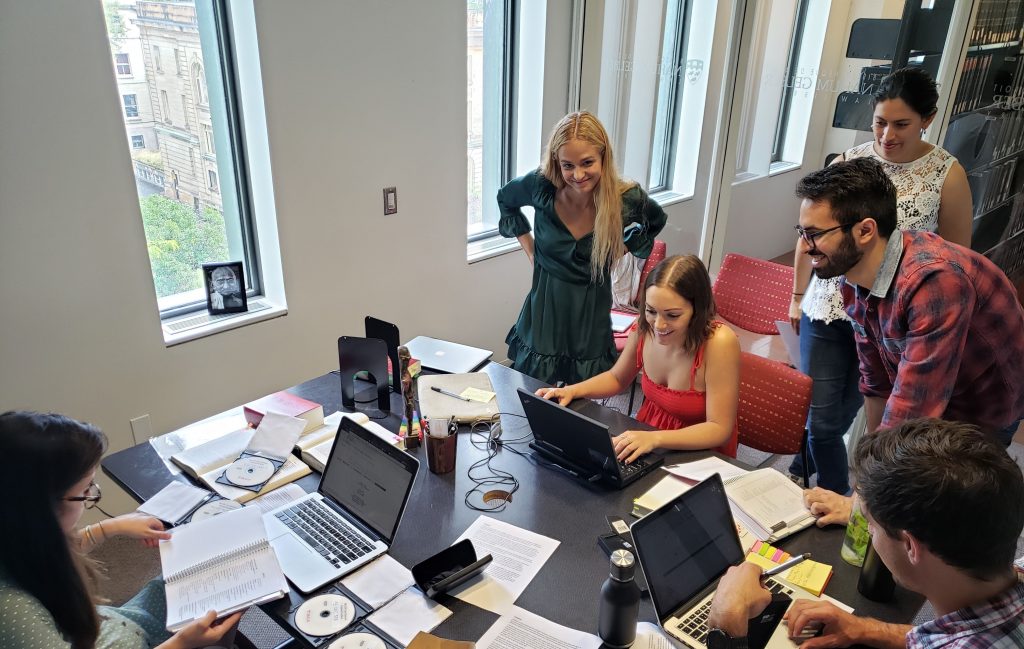 *you are free to sign up individually, but you will be added to a team.