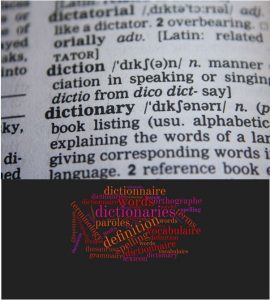 A new exhibition is on display at the Nahum Gelber Law Library. Legal dictionaries through the centuries.
It presents items from its Wainwright and Canadiana Rare Books collections published between 1616 and 1882.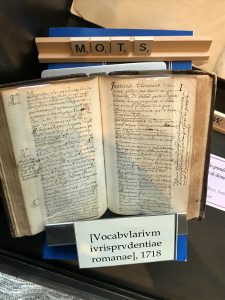 A very unique dictionary is the Vocabvlarivm ivrisprvdentiae romanae from 1718, a handwritten small book that provides a quick and simple reference guide to the principle terms and concepts of Roman civil law. Aspects covered are from inheritance and property rights through to contracts and martial law. A section also deals with "Iuris Primordia", detailing the structure and development of the Corpus Iuris Civilis.
Another interesting work is the Dictionnaire de cas de conscience : ou, Décisions des plus considérables dificultez touchant la morale et la discipline ecclesiastique. Tirées de l'Ecriture, des Conciles, des Decretales des papes, des peres, et des plus célebres théologiens et canonistes. A three volumes set published in Paris in 1730 donated to the Library by Paul-André Crépeau.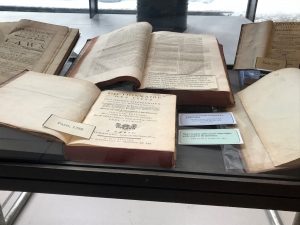 A work dedicated to the French King and dealing with feudal Law in France is the Dictionnaire des fiefs et des droits seigneuriaux utiles et honorifiques : contenant les définitions des termes, & un ample recueil des décisions choisies, fondées sur la jurisprudence des arrêts, la disposition des différentes coutumes, & la doctrine des meilleures feudistes … by Joseph Renauldon, published in Paris, in 1788.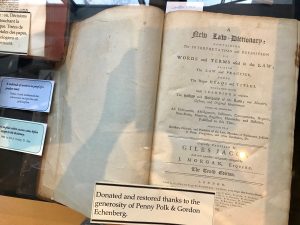 A recent donation to our Rare Books also presented in this exhibition is the New law-dictionary: containing the interpretation and definition of words and terms used in law… by Giles Jacob, published in London, in 1782. It was donated and restored thanks to the generosity of Penny Polk and Gordon Echenberg.
The exhibition was curated by Sonia Smith.