So many people have published and edited with the McGill Law Journal that the Journal's institutional memory could fill a book. This was the insight of the Managing Editor of volume 54, Eytan Bensoussan, who came up with the idea of writing a book about the history and legacy of the Journal. James Cummins, a journalist and writer from Ottawa, was commissioned to write the book by the Editor-in-Chief of volume 56. The result is an account of the singular nature of the McGill Law Journal, recounting the ways it was influenced by and has influenced the Canadian legal and political landscape.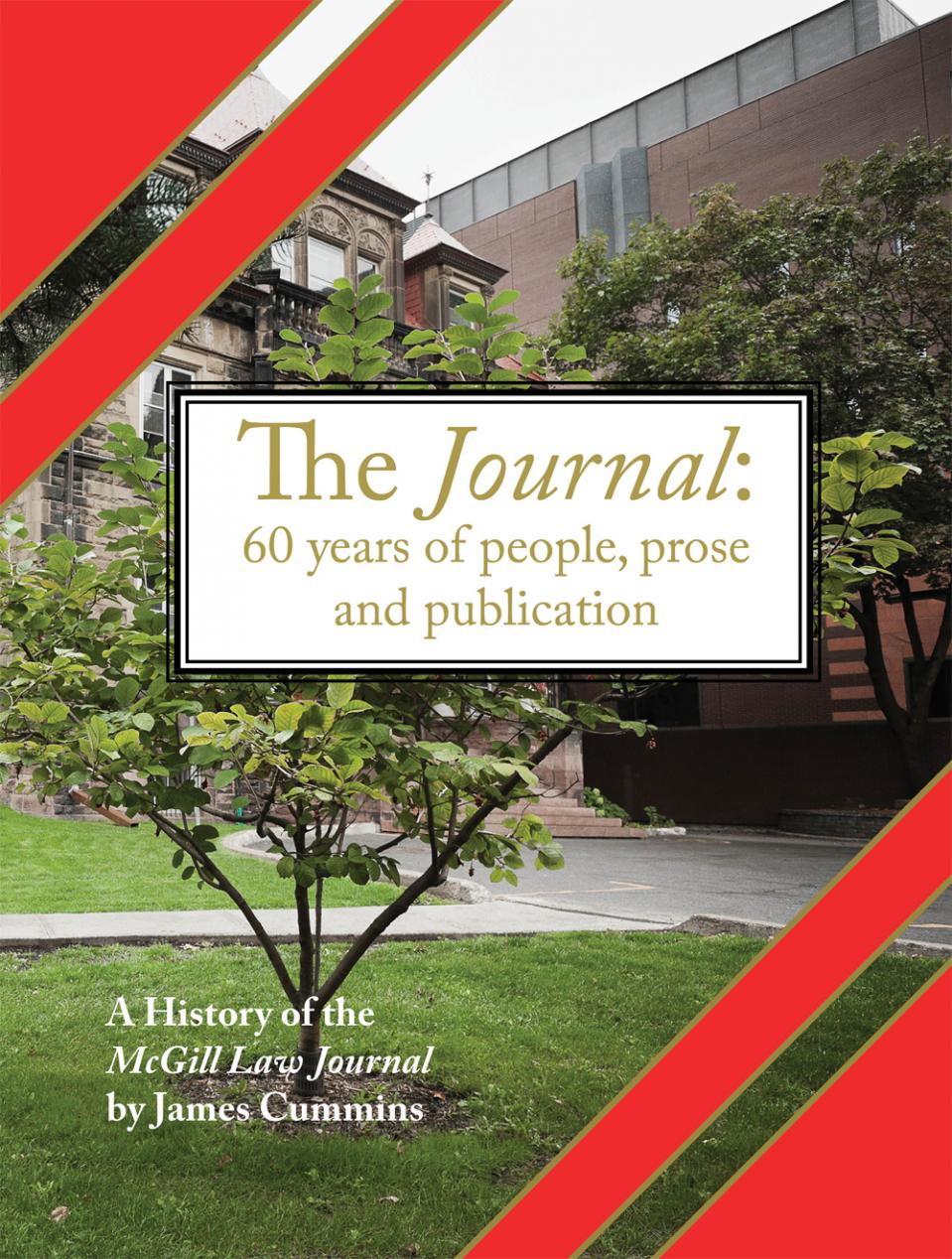 The McGill Law Journal is the premiere legal periodical in the history of Canadian scholarship. Since its founding in 1952 by Jacques-Yvan Morin (future leader of the Official Opposition in the National Assembly of Quebec) the Journal has been at the forefront of legal history. It was the first university-based law journal in Canada to be cited by the Supreme Court, and has since been outpaced by no other university journal in the frequency at which the Court has turned to it. And it has always has been run solely by students.
The Journal's alumni covers a who's who of the last 60 years in Canada, from international figures to business leaders; from national politicians to larger-than-life legal scholars; from judges to global entertainers. This is the story of the people who made the Journal work; of the people who each made their first real impacts on the world through an unearthly dedication and passion to their job at the MLJ. It is also the tale of the revolutionary ideas that flowed into, and in some situations started, in the pages of the publication they ran.
The book is based on interviews with the Journal's alumni, a history of legal journals in Canada, and the content of each of the 58 volumes that came to be between 1952 and the end of the 60th anniversary year of the Journal in the spring of 2013. The culmination of this research provides a breathtaking picture of a history that was beginning to slowly fade into the past, strengthening the identity of a key part of Canadian society.
The journal: 60 Years of People, Prose, and Publication is now available at the Nahum Gelber Law Library: KEQ322 M34 2013.
Sources: http://lawjournal.mcgill.ca/en/text/2998, http://49thshelf.com/Books/T/The-McGill-Law-Journal-60-Years-of-People-Prose-and-Publication