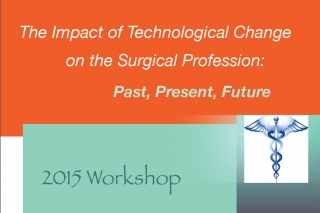 A two-day workshop entitled "The Impact of Technological Change on the Surgical Profession: Past, Present, Future" will be held next week, Wednesday, May 6th, and Thursday, May 7th, at the Lady Davis Institute for Medical Research at the Jewish General Hospital. Organized by the McGill University Department of Social Studies of Medicine, the workshop will feature talks by physicians, historians of medicine, and social scientists on the role of technology in past, current, and future developments in the field of surgery.
Talks will include:
Lawrence Rosenberg, McGill University: "Change: Technological, Economic, Sociocultural, and Professional – Why It Matters."
Thomas Schlich, McGill University: "What is a Surgeon? Changing Models of the Division of Labor in the History of Medicine from Artisanal Surgery to Minimally Invasive Surgery."
Peter Kernahan, University of Minnesota: "Defining Boundaries: Professional Organizations as Mediators of Technological Change."
Rachel Prentice, Cornell University: "'It Ain't What it Used To Be With Doctor as King': Techniques of Control in North American Operating Rooms."
Roger Kneebone, Imperial College, London: "Backwards Through the Keyhole: Re-Enacting the Surgical Past."
Nicholas Whitfield and Marc Jacques Dubois, McGill University: "The Versatility of Minimally-Invasive Surgery."
Cynthia Tang, McGill University: "Competing Treatments and Disease Definitions: Medical vs. Surgical in the Case of Cholelithiasis."
Léo Mignot, University of Bordeaux: "Medical Innovation and Boundary-Work: Turf Wars Between Interventional Radiology and Surgery."
David Jones, Harvard University: "The Re-emergence of Minimally Invasive Bypass Surgery: Controversies and Mysteries."
You can find the full programme here.