Are you a fun of scary fil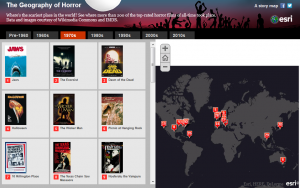 ms? Visit ESRI's Geography of Horror map exhibition and find out the scariest places in the world where popular horror movies in the past half century took place.
Actually this exhibition is just one example of the ESRI's story maps gallery which collects stories worldwide on a variety of topics using maps, text and other media.
Image courtesy to ESRI