To honour the memory of H. Patrick Glenn, Peter M. Laing Professor of Law, who passed away on October 1, 2014, the Law Library opens an exhibition "In Loving Memory of Hugh Patrick Glenn (1940 – 2014)" featuring memorabilia, tributes from the Guest book and a selection of his works, including all the editions of Legal Traditions of the World. Legal Traditions of the World, now in its fifth edition, has been a global success that was awarded the Grand Prize by the International Academy of Comparative Law in 1998.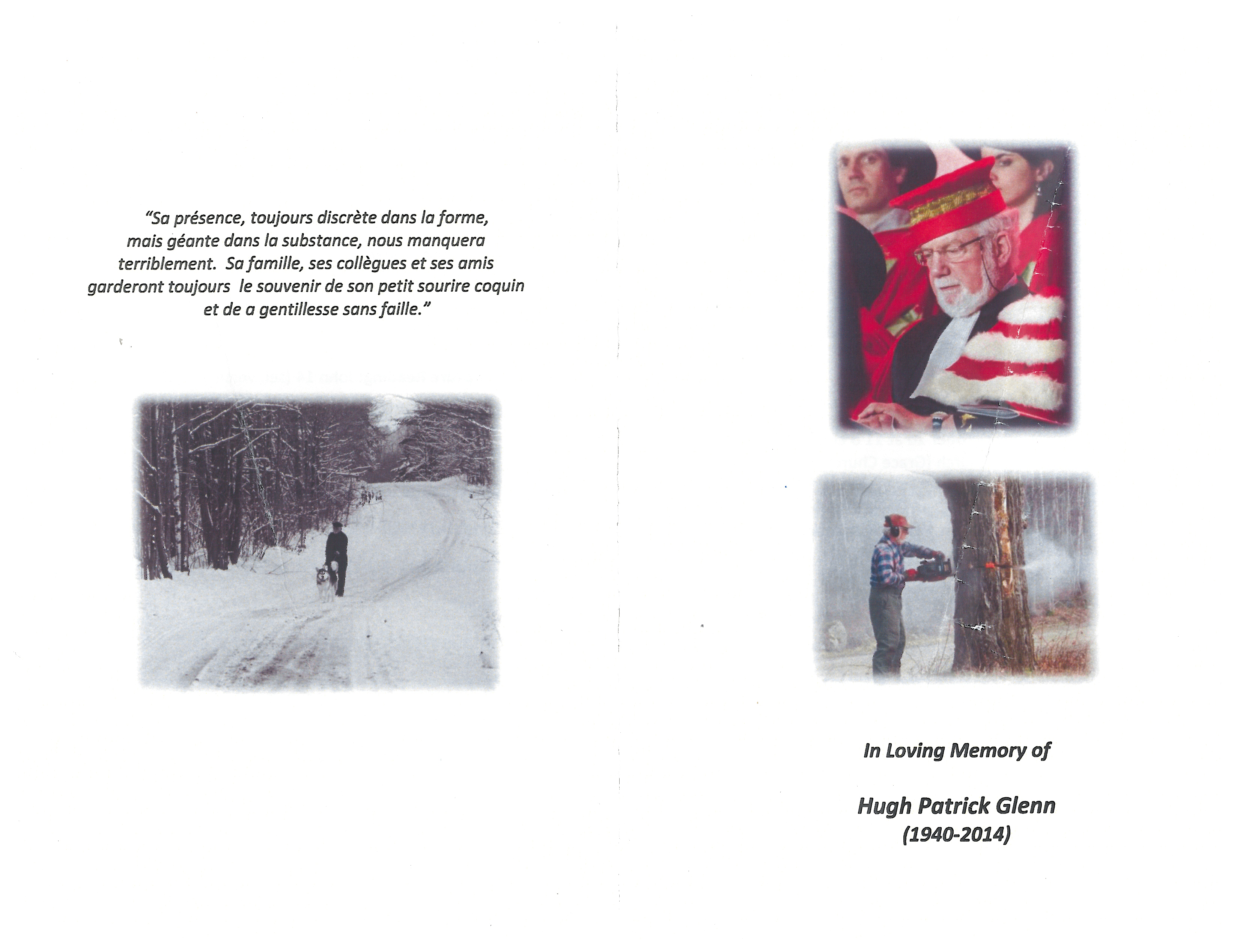 Professor Patrick Glenn taught and had research interests in the areas of comparative law, private international law, civil procedure and the legal professions. He was a former Director of the Institute of Comparative Law and in that capacity worked on projects on the reform of the Russian Civil Code and judicial education in China. He was a member of the Royal Society of Canada and the International Academy of Comparative Law and had been a Bora Laskin National Fellow in Human Rights Law, a Killam Research Fellow, and a Visiting Fellow of All Souls College, Oxford.
In 2006, H. Patrick Glenn received the Prix Léon-Gérin, a prestigious award attributed by the Government of Québec, in recognition of his contribution in comparative law over his career.
In 2010-2011, he held the Henry G. Schermers Fellowship of the Hague Institute for the Internationalisation of Law. In 2012, he was elected president of the American Society of Comparative Law.
In November 2014, the Canadian Bar Association (Quebec Division) posthumously awarded him the Paul-André Crépeau Medal  for his contributions to the advancement of international private and commercial law. Read more about Professor H. Patrick Glenn here.
The exhibit was prepared by Svetlana Kochkina, Librarian at the Nahum Gelber Law Library.